UPCOMING IMPORTANT EVENTS
GENERAL MEETINGS
Sunday, December 10th, 12:30-2:30 @ Yonkers Riverfront Library
SPECIAL EVENTS
Sunday, January 7th, 12:30-2:30 – NYCD16 INDIVISIBLE Anniversary Party Yonkers Riverfront Library with Special Guest Lecturer – Dr. Timothy Snyder
MISSION
NYCD16-Indivisible's mission is to encourage and enable constituents of New York's 16th Congressional District, which includes the northern Bronx and lower Westchester, to take political action designed to resist and defeat the extremist Republican and Trump agendas, by engaging our elected officials, particularly our Members of Congress, as well as our local and state officials.
OUR HISTORY
We got started in early January when our co-founders, Liz de Bethune and Eileen O'Connor, called a meeting by emailing many of their friends and coworkers. On January 7, nearly 50 people showed up at their house in the middle of a snowstorm. NYCD16 has since had three more general meetings, with 100, 150, and 130 people attending, respectively. On March 5th we organized a community town hall at the College of Mount St. Vincent in the Bronx that was attended by more than 800 people, and featured remarks from Rep. Eliot Engel and several local community leaders working on issues including immigrant rights, fighting Islamophobia, and defending the Affordable Care Act. We now have more than 800 people on our email list and more than 400 in our Facebook group.
OUR GUIDING PRINCIPLES
Inspired by the Indivisible Guide, and in alignment with a progressive agenda and to preserve our republic's democracy, NYCD16 Indivisible will serve as an organizing home base and an operating conduit for members to take action, while embracing the values of inclusion, tolerance and fairness.
WHAT WE'VE DONE SO FAR
In our first two months, NYCD16 has held several general meetings in Yonkers, developed and adopted a governance structure, organized working groups to manage communications, outreach, action, legislative research and town hall organizing, and also has set up teams focusing on issues including healthcare, immigration, and the environment. We also have a Riverdale sub-group focused on state-level elected officials. We have dozens of engaged volunteers working on all of these efforts and plan to expand to cover other issues of concern, including voting rights, education, inequality, and fighting racism, anti-Semitism and Islamophobia.
We have also run three petition campaigns aimed at our Member of Congress, Eliot Engel, urging him to condemn the appointment of Steven Bannon as White House chief strategist, to boycott President Trump's inauguration, and to end his tradition of shaking the President's hand at joint sessions of Congress. We have been gratified to see Rep. Engel steadily speaking out in defense of democratic values, including his most recent call for Attorney General Jeff Sessions to resign. Our members have also been constantly calling our Senators, urging them to increase their resistance to the Trump agenda.
---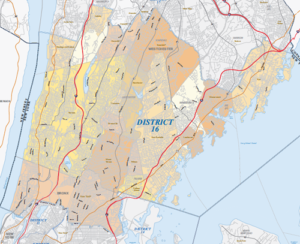 16th Congressional District